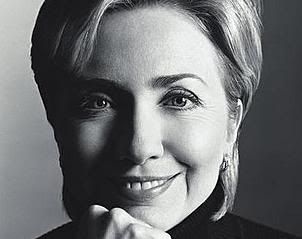 After all the drama over yesterday's wishy-washy response to General Peter Pace's derogatory comments on gay morality, or lack there of, Senator Hillary Clinton had this to say in her defense:

Well I've heard from a number of my gay friends and I've certainly clarified with them any misunderstanding that anyone had, because I disagree with General Pace completely. I do not think homosexuality is immoral. But the point I was trying to make is that this policy of Don't Ask, Don't Tell is not working. I have been against it for many years because I think it does a grave injustice to patriotic Americans who want to serve their country. And so I have called for its repeal and I'd like to follow the lead of our allies like, Great Britain and Israel and let people who wish to serve their country be able to join and do so. And then let the uniform code of military justice determine if conduct is inappropriate or unbecoming. That's fine. That's what we do with everybody. But let's not be eliminating people because of who they are or who they love.
AmericaBlog reports that Human Rights Campaign
gave the Clinton and Obama camps a stern talking to
over their evasive maneuvering: "HRC reportedly told both campaigns that they were not happy, and that the campaigns' various and ever-changing answers to the question were evasive and unacceptable, and that both needed to issue forceful and unequivocal statements saying that they don't think homosexuality is immoral."
Obama's camp has reportedly issued a statement as well: "As the New York Times reported today, I do not agree with General Pace that homosexuality is immoral. Attempts to divide people like this have consumed too much of our politics over the past six years."