Think outside the tube.
Ballmania is my new favorite lip balm by accident. My coworker bought too many for Hanukkah so she gave me one. Of course now I'm addicted. Ballmania a premium lip balm (SPF-20, Aloe Vera, Shea Butter, Vitamins A, C, D3 and E, food grade flavoring) packaged in stylish twist-top ball containers that hold more then twice as much balm as the typical tube and are really easy to find in the bottom of a purse. You can buy them online here and in bulk here (they're a great addition to any gift!) I think once I'm done with this one, I'm going to clean it out and use it as a little pill box.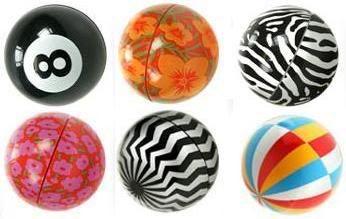 Made for a man but still sassy enough for a woman.




When you think of unisex fragrance, what's the first thing that comes to your mind? Thanks to the overworked Calvin Klein marketing department in the 1990's: CKOne of course. Well, it's not 1994 and truthfully CKOne smells to girly for a man so get that sly marketing bit out of your head. Here are two great men's colognes that smell equally as good on a woman. Sharing with your boyfriend is a great way to add a few more scents to your collection. This comes from years of personal perfume experimentation (descriptions by designers):

Higher by Christian Dior. Higher with fruity top notes of pear, basil and frosted citrus, tempered by spicy heart notes, this is an unexpectedly bracing scent.
Le Male by Jean Paul Gaultier. Top notes: Strength expressed by the freshness of mint. Heart notes: Traditional lavender is used with a twist. Base notes: The sensuality of vanilla expresses tenderness.