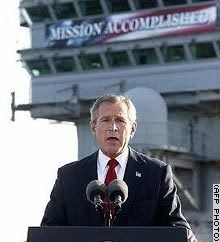 Celebrity Hijinx's not-so-fun fact of the day reminds that today is the 4th anniversary of the war in Iraq. Dino and Sara are probably going to take away my computer because I spent a whole day talking about big airplanes in the sky and now I'm flying directly over celebrity gossip/pop culture to visit the serious world:

President Bush declared the an end to major combat in Iraq under a "Mission Accomplished" banner on May 1, 2003. Here is a story about the human side of war -

Jared doesn't remember the two weeks after the rocket attack that downed the helicopter he was in, killing 16 on board. But he still struggles to recover from the crash that left him with a brain injury and stitches from one ear to the other. He is among more than a dozen local servicemen who were roaming the halls in high school one year, then scattered on the frontlines of a war in Iraq the next. Eager to serve their country, they trained and deployed almost immediately after graduation and suffered their first combat injuries before they were legally old enough to drink a beer. Today, four years since the March 19, 2003, start of the war in Iraq, they are spread out, some still serving in the military, some gearing up for college, but all are still grappling with uncertainty about what their injuries will mean for their future, and whether they will ever really recover.
It was the deadliest strike against U.S. forces in Iraq at the time. Insurgents shot a shoulder-fired surface-to-air missile at a Chinook helicopter flying west of Baghdad, carrying 36 soldiers on their way for leave. The crash left 16 dead and 19 injured. Pvt. Jared, 19 at the time, was among them. He was critically wounded, his head torn open, his pelvic bone fractured, his spleen ruptured. He was flown to a hospital in Germany, then transferred to Walter Reed Army Medical Center in Washington. "He was thrown from the helicopter and wasn't in it when it burst into flames," said his mom, who made contact with the doctor who treated her son at the scene. "The doctors didn't expect him to live. Those next few weeks were like a blur."

Jared said he doesn't remember the accident or the two weeks after the crash. Most of his memories of Iraq were of the early days of the invasion, when his job was to go into cities ahead of troops, hunt down enemy holdouts and target them with artillery fire. "I spent most of my days driving around in Humvees, looking for enemies, conducting house raids and searching for weapons caches." He didn't expect to be hurt on his way out of the country for leave. A few months after the accident, his commander presented him with the Purple Heart. "Of course it's an honor having it. It's showing that they are recognizing your service, but at the same time it shows someone got the best of you, that the enemy attacked you and hurt you," he said.
Jared, now living and working in construction on the west coast, was medically discharged from the Army, but not before he was nearly sent back to Iraq for a second tour — before he was fully recovered. When his mother learned of the planned deployment, she fired off letters to local politicians and to his doctor. Jared's orders were pulled and he was sent back to Walter Reed, where he spent nearly a year recovering from his injuries. "In a way, he wanted to go. In fact, I think he was mad I got involved," his mother said. "But there was no way I'd let him go back in that condition." Eventually, doctors determined that his injuries warranted a medical discharge from the Army. Jared never got all the treatment he needed at Walter Reed — years before the medical center was mired in controversy — and today he is still seeking "cognitive therapy" for his brain injury. "My memory is bad now. I'm jumpy and nervous at times, and we all have post-traumatic stress disorder. And these are the injuries that aren't visible," he said. He said he is forever changed.
"A part of me wishes I was still there. I miss the camaraderie. Plus, watching the news every day, seeing people getting injured and killed in a place where you were — it's frustrating. You think if you were there, you could be making a difference," he said. "It was close for me, and it could have ended a whole lot differently. You appreciate life a lot more. There are a lot of people who didn't come back, and their families and everyone they knew are forever changed, too."
I've been saving this personal story for a day like today. Unfortunately, so many soldiers and their families have these stories. Recently, Anderson Cooper brought media attention to a story about 25 year-old Marine Jonathan Schulze who earned two purple hearts for fighting in Iraq but was rejected by a Minnesota VA hospital even after he told them he was "suicidal." Four days after his visit to the VA hospital, Jonathan Schulze put a household electric cord around his neck and hanged himself in the basement of a friend's home. A picture of his one-year-old daughter was at his side. It's so easy to focus so much on the politics of the situation that we lose focus on the human aspect of these occurrences. So today, take a moment think about people like Jared, Jonathan and also the innocent civilians in Iraq whose names and stories we don't even know) and trust that this can come to a civilized end in the near future. In the meantime, continue to spread compassion on a daily basis and hope that someday experiences like these can be eradicated and society would be "forever changed."