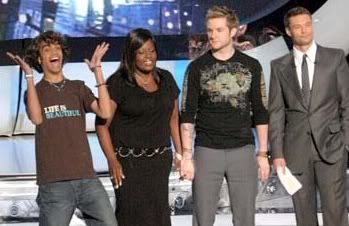 I knew Sanjaya celebrated 420!
The
National Enquirer
has unearthed legal records that show that Sanjaya's mother was sent to jail for running an indoor pot-growing operation out of her garage.
Malakar's American-born mother, Jillian Blyth, was busted in Pierce County, Wash., in February 2005 after neighbors reported smelling marijuana and noticed a large
vent on the garage roof, according to court records. Cops discovered 310 marijuana plants, growing lights -- and Sanjaya's then 17-year-old sister Shyamali.
Shyamali told officers that her mom was at another location in nearby Federal Way, Washington, and when the cops got there, they found a second marijuana-growing operation.
Sanjaya's mom pleaded guilty to one felony count of unlawful manufacturing of a controlled substance. She faced up to five years behind bars, butwas sentenced to just 30 days.
While his mom - seen rooting for her son in the "Idol" audience in a low-cut T-shirt emblazoned "Momjaya" - was in jail, Sanjaya lived with an aunt.
Momjaya then growing 310 marijuana plants, and now dressing all slutty, DAMN,
just another reason to love Sanjaya!
[
source
]
and [
source
]