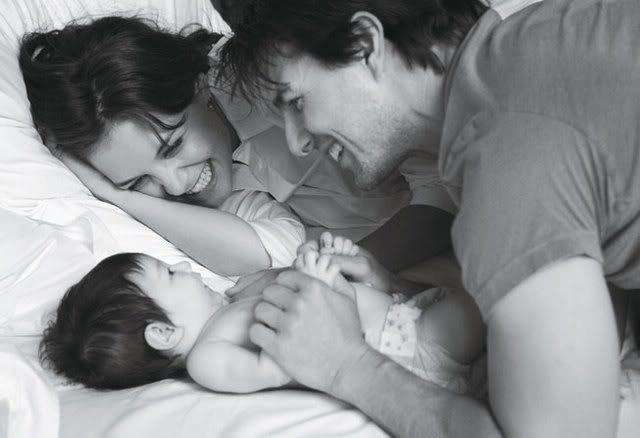 Name
:
Suri Cruise

Birthday
:
April 18th, 2006

Famous for
: Being the first child of actors
Katie Holmes and Tom Cruise. The couple began dating in April 2005, were engaged by June and then welcomed Suri the following April. They were married in November of last year.
Name meaning: The couple say that they found Suri's name in a baby book and both instantly loved it! Suri is Persian for 'red rose' or Hebrew for 'princess'.
Birth story
:
It is rumored that Suri arrived in silence. Scientology calls for as much quiet as possible during the birth.
She was born at
3 am at St. Johns Hospital in Santa Monica, CA and weighed in at 7 lbs 7 oz. and 20 inches long. Katie had a natural birth.
Siblings
:
Tom was previously married to Nicole Kidman with whom, he has two children, Isabella Jane, 14, and Connor Antony, 12. Tom's sister and her children also live with them as well as Tom's mother, Mary.
Life so far
:
She is the daughter of two incredibly famous actors, whose love story is even more famous, but Suri Cruise has already lived amazingly well, and she is only one year old. Suri has traveled the world - from America, to Italy and Australia (when mom, Katie was pregnant). She even
attended her first Oscars
. She has wore Armani and dined with the rich and famous. This gorgeous girl is one lucky child! She is adored by the media (and the world) and they were so anxious to see her that they started to question her existence and the
legitimacy of Katie's pregnancy
.
So, sorry I forgot the birthday earlier. I'm just frightened to discuss the lives of Scientologists. They do like voodoo n'shit.
[
source
]