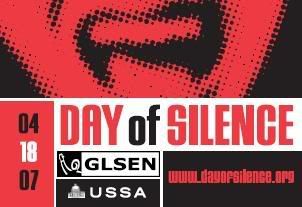 "Day of Silence" tensions, combined with the recent fever over violence at Virginia Tech,
lead to lockdown at Indiana High School
: "
The Day of Truth
at New Castle Chrysler High School coincided with a national Day of Silence aimed to support gay, bisexual and transgender students. 'People were in their shirts for it, people were in their shirts against it, and it just caused a lot of drama that I didn't think was needed,' said student Kayla Boyles."
Tommie Barnes, mother of a freshman, said she also was concerned about potential conflict over today's planned Day of Truth rebuttal to the Day of Silence. That also coincides with a national observance, this one planned by the Alliance Defense Fund. Its day is devoted to countering the "homosexual agenda" and presenting an "opposing viewpoint from a Christian perspective," according to the fund's Web site.
If you don't know what the Day of Truth is, well you're lucky. This marks the third year of the Day of Truth, which was established to counter the promotion of the "homosexual agenda" and express an opposing viewpoint from a Christian perspective.
Mighty Christian of them, wouldn't you say? I say hate has wings, and religion is the air upon which it floats.
[
source
] via [
source
]