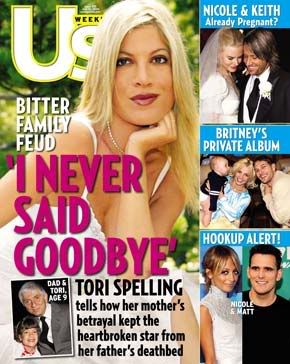 Nevermind the boring stuff on this cover...
forget about Nicole hooking up and Matt Dillon...
and who gives a shit about Britney's private photo albums...
unless I get to see Feder-dick, I'm all set...
and if I have to look at one more goddamn photograph of Nicole's wedding to Keith, I may inflict pain upon myself.
gimme Suri Cruise, and you've got a deal
(worth less than 5 thousand dollars, for sure)...
Anygayz, the Spelling girls are back at it again... this time, publicly fighting in the wake of Aaron Spelling's death. Oy. These two could use some etiquette training. And, frankly, some more plastic surgery. Have you seen Tori's face lately? It's getting there. Ooof, and Candy... girl, BOTOX IS NOT CANDY!
In any case, the magazine cover story, due out Friday, the Beverly Hills, 90210 alum reveals she learned of father Aaron Spelling's death last week as she dined in Toronto.

Her BlackBerry broke the bad news.

"A friend of mine had seen a TV report, and emailed me," Tori Spelling tells Us.
"And I was just in total shock. My first thought was, I can't believe my mom didn't call me!"
That hurts.
[source]