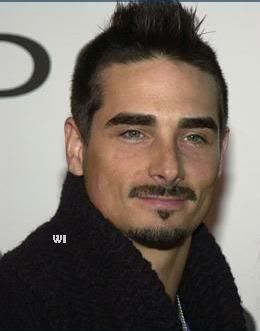 "It was a very tough decision for me but one that was necessary in order to move on with the next chapter of my life."

That's right. Kevin Attack-of-the-killer-eyebrows Richardson , who's 33 years-old, said on Saturday that he was leaving The Backstreet Boys in order to pursue other interests.


The group plans to return to the studio this weekend to begin work on their next album, which is due later this year.

And, unlike the Destiny's Child model before them, the remaining members, McLean, Nick Carter, Howie Dorough, and Brian Littrell, said they had no plans to replace Richardson.
Hey, does anyone remember when Nick Carter came out with that solo CD right around the same time as Justin Timberlake? Remember how it sold like 248 copies? Yeah, and remember when JC Chasez (former N'Syncer) came out with his solo album and it sold like 32 copies?
Kevin, let's hope the next chapter of your life does not include a solo musical endeavor. Might I suggest deodorant commercials?
[
source
]