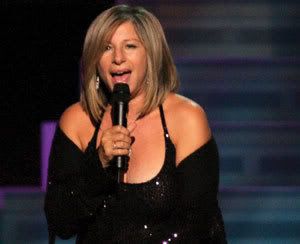 Barbara Streisand got a mouthfull of someone's drink on Monday night after a mid-concert skit making fun of President Bush. Yah, someone through a dixie cup or something filled with some sort of liquid. And, honestly, it wasn't so much a mouthfull. The drink didn't actually hit her, but imagine if it had!
She apparently took it in stride and had this to say, "It's a free country and they're entitled to express their opinion."
It's at least the third time the skit, which includes a George Bush impersonator, has angered Streisand's audience, which consists of mostly fags and old ladies.