Britney Spears' drama is just too much for me to handle at my old age of 27. She acts like me when I was 19 which, according to the giant fault lines across my forehead, was a long, long time ago. Luckily I didn't try to write a blog on her latest trip to NYC fashion week sooner because more and more stuff happens and now I can nicely include everything in one post via a bulleted list:
Britney stepped off the plane in NYC and went shopping at Duane Reed looking like the haggardest antithesis of fashion week ever. It was so bad, I had to start making up words just to describe it.
Some of her latest "fashion" choices include but are not limited to: a 9 year old girl's winter playground outfit, a bloody cotton ball hat a drunk, Russian communist wouldn't wear even before 1991 and, of course, she pulled out her old trick - the thong hanging out of the low-rise jeans.
While in NYC, reports surface that K-Fed K-Fed's friend

Omar "Iceman" Sharif, says Britney was into hot, nasty sex including threesomes and orgies with 20+ girls.

Britney then received sad news that her latest boyfriend, "model"

Isaac Cohen wanted to break up with her...over the phone. He couldn't handle the drama.



Then just like any newly dumped, 24 year-old mother of two, Britney hit the clubs on a rampage: After she was a no-show at the chaotic Heatherette show (supposedly because she was "really scared" by the press), Spears and friends had dinner at touristy Rue 57. She next headed to Marquee, where sources said she was dancing with her girlfriends and "demanded all alcohol be kept far away from her."But other witnesses weren't buying that. "She must have been drinking secretly in the bathroom," said one. "Because she was falling all over the place. She was also chomping on lollipops from the bathroom all night. And she didn't leave any money for the bathroom attendant." Spears' wild night continued at club Tenjune, where she was seen arriving at 2:30 a.m. with a group of friends. "Britney was completely hammered," said a witness. Again, the tank top-clad party girl asked that no alcohol be put on the table - but clubgoers saw her dancing on the banquettes and "drinking what looked like vodka and O.J." A source told Page Six that one of the people who followed her from Marquee to Tenjune (described as "a scruffy-looking guy") was "hitting on her all night, but she wouldn't even look at him. "Then a model guy came to her table and she started making out with him." Spears ended her night with a visit to McDonald's.
Here's another lovely snapshot of Ms. Spears from the back.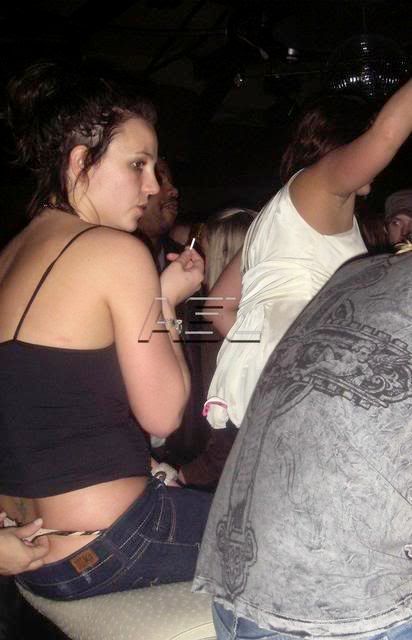 This remindes me this time I visited my sister while she was in college and there was a guy at the end of the bar with his butt crack hanging out of his jeans. Like drunken fools, we decided to stick a straw in his butt crack to see if he'd notice. He didn't. Somewhere, I have a cell phone picture of a man with his straw sticking out of his butt. Anyway, the moral of the story is that either someone had fun courtesy of Britney's ass crack or Brit has a thong-adjuster on staff. Either way it's about as sad as the story I just told you. [
so
.
many
.
sources
.]