Holly and Hef are sooooo in love. It was love at first sight. Well, not really according to a new (rather scathing) article in Elle Magazine: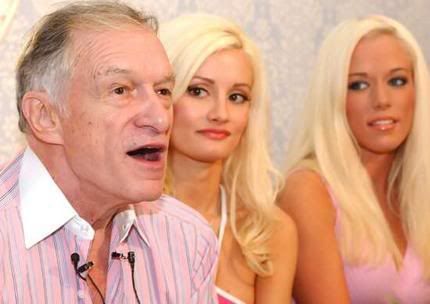 Hefner alludes in passing to the fact that Holly, who wasn't his instant type the way Kendra was, set her sights on him rather than the reverse: "She found me and she loved me." He goes on to explain that she doesn't look the same as when he first met her, that she "became beautiful," helped by "a little thing she had done to her nose."

You don't say. She has to be pissed...I bet pillows and silk pajamas (and maybe a fist) were flying at the mansion. I think he was being nice. I would've said "she became better looking after Ty Pennington and his Extreme Team came in and remodeled her whole face."
Great, now I have a Backstreet Boys song stuck in my head. Anyway, according to PageSix, Hef praised the author of the article.