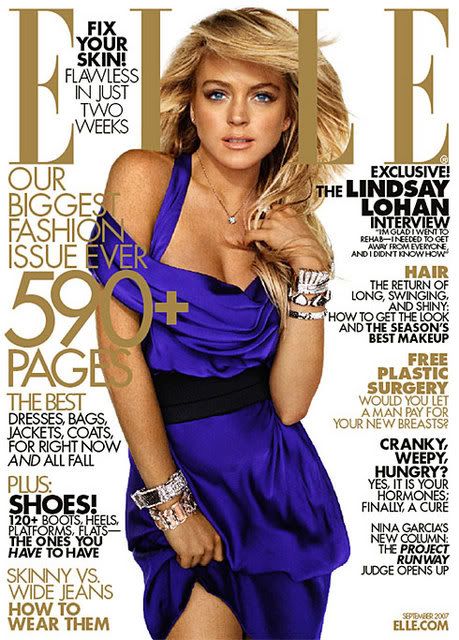 Lindsay Lohan's words are eerie.
Honestly, like 45 seconds before her arrest, she opened up about her first rehab stint, Calum Best (some model dude), caretakers and idols in Elle magazine's September issue. The interview took place 36 hours before her arrest in May on suspicion of driving under the influence.
After that arrest, Lohan, who turned 21 on July 2, entered Malibu's Promises rehab center, which she left July 13 after completing a 45-day program. She was arrested July 24 and booked on suspicion of felony cocaine possession, misdemeanor DUI and driving with a suspended license. Lohan's lawyer, Blair Berk, says the actress is getting treatment. Some highlights from Elle:
•Her January rehab stint. "I was glad I went, because I needed to get away from everyone. … And I learned a lot there."
•Saying "I'll never do …" "You're setting yourself up for a disaster. I never say never."
•Who takes care of her. "Jenni (Munro, one of her assistants), my mom and Leslie (Sloane-Zelnick, her publicist)."
•Relationship with British model Calum Best. "He's me in male form. We're very similar. Stubborn, rebellious, very smart, coy, a little bit narcissistic."
•Whom she relates to in Hollywood. "Ann-Margret. Marilyn Monroe. … Marilyn exudes sex appeal. She was such an innocent sort. … That was the tragic side of it."
Now, if she could only get pregnant, all her problems would melt away. Just ask Nicole.
[
source
]