Sanjaya Malakar, the singer who horrified and captivated millions in his improbable "American Idol" run, was finally voted off the show Wednesday night. When the result was announced, Malakar wiped away tears and got a big hug from LaKisha Jones, the next lowest vote-getter. "I'm fine," he told Ryan Seacrest. "It was an amazing experience."

"I can promise you: We won't soon forget you," Seacrest replied.

Sanjaya then performed one last song, "Something To Talk About." Let's talk about how I never understood the whole Sanjaya phenomenon. I have questions, people. Do some think he's gay? Did someone out there actually think they could throw American Idol, or better yet, did anyone in America actually think Sanjaya could sing?

AAAAnd... now that he's been booted from AI, Paula I'm-Definately-On-Painkillers Abdul could care less about the effeminate chanteuse.

TMZ caught the loopy "Idol" judge outside Mr. Chow last night, where she went to chow down after the results show, in which the Sanjaya the Ponyhawked Wonder got the ax. When asked her feelings on his exile, Abdul wasn't exactly sympathetic, brushing off the question with a "Oh he'll be fine," and proceeded to sign photos for waiting autograph hounds.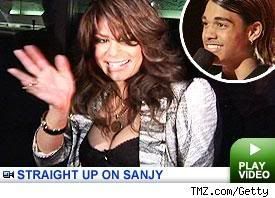 Someone get that crazy bitch a Percocet.

[source] and [source]