This is a cute dog story for a pleasant Friday morning: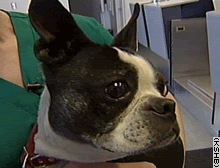 Boston terrier named Mickey who disappeared four years ago from his suburban Kansas City backyard was found in Montana and reunited with his owners this week. Cher Jarosz and her daughter Kari Mitchell thought they had lost Mickey forever -- until they received a call from an animal shelter last week 1,100 miles away in Billings, Montana.
A microchip on Mickey helped the Billings Animal Shelter return him. "Some lady from the public walked in the back door," said Kristal Ward, office manager at the shelter. "She found the dog running up the street. She tossed him to me, and that's how it started." Ward said she called Avid, a company that makes microchip identification systems, and was given the name of a veterinary clinic in Lee's Summit, Missouri. "I called that vet clinic because they were the one that should have a record of that chip," Ward said. "I gave them the chip number, and the woman kind of started screaming.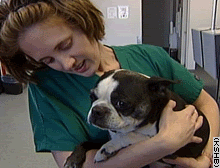 "She goes, 'Oh my God, is that a Boston terrier? Oh my God, it belongs to Kari Mitchell. She used to work here."' Ward called Mitchell and confirmed that the dog was Mickey, she said. After she talked to Mitchell, "Her mother called, and they were just beside themselves," Ward said. The family said he looks different and doesn't remember his name. His teeth show signs of wear and tear. Only Mickey knows how he wound up in Montana, and that's fine by Mitchell. "We're happy to have him home," she told KSHB-TV in Kansas City after Mickey caught a flight home. "I just hope whoever was taking care of him, I hope they were just glad he's home." [source]

Here's the hilarious part: I told my boyfriend about this and he was like "well why didn't they just track it four years ago when it disappeared" and I was like "what are you talking about?" He totally thought microchips in dogs were like GPS. That's a brilliant idea though - GPS for dogs. I'd buy one.