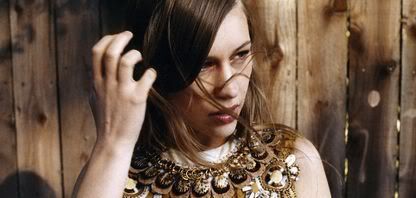 I love that picture. There's something dramatic about the wind in her hair and the elaborate dress she's wearing. She's Joanna Newsom, and she's quite possibly my favorite musician on the planet. That said, I know there are those who will disagree with my enthusiasm for Joanna, and to them I say, go f*ck yourself. I'm too old to care about the music you listen to, so shut up about mine. :-)
Anyhoodle, has everyone reading been to
Pitchfork
before? For those of you who haven't, please click the hyperlink above and check that shit out. If you're like me and you love learning about new music, you need to head over there now and click around. Pitchfork often interviews really great artists, and they do this thing called Guest List, where each week, they ask one of their favorite artists to fill them in on what they've been up to lately: "which tracks they can't stop spinning, what books they can't put down, and what new bands they've caught on tour."
Last week they featured Joanna Newsom, and here's what she had to say:
Favorite Songs of the Past Year:
Lindsey Buckingham
: "Shut Us Down"I love him.
Meg Baird
: "The Waltz of the Tennis Players"It's a gorgeous cover of a gorgeous Fraser and Debolt song. I love her voice so much.
Macromantics
: "Moments in Movement"The whole record is amazing, but my favorite song is the title track. Either that or
"Apple Crumble"
. My sister and I drove around doing errands yesterday and hollering along to, like, every third word on this album. That's all we could manage 'cos Romy, the singer, goes so fast.
Bill Callahan
: "Taken"A gorgeous B-side from the "Diamond Dancer" single.
Alasdair Roberts
: "Firewater (Library of Aethers)"Perfect.
Ned Collete
: "Blame"
Sinead O'Connor
: "Jah Nuh Dead"
Bonnie "Prince" Billy
: "Strange Form of Life"
Favorite Older Songs at the Moment:

The Zombies
: "This Will Be Our Year"
Harry Nilsson
: "Gotta Get Up"Junior Murvin: "Roots Train"