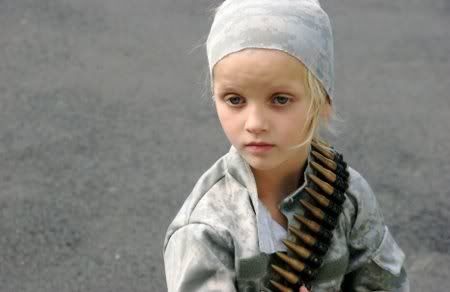 It's nearly been a month since RoRo left The View, and she's still be able to both stay in the spotlight and create controversy. I think she's wonderfully open, aggressively argumentative sometimes, but mostly a pretty cool lady.

Well, this time, Rosie is in the news for stirin up some controversy. Rosie went and posted a picture of her daughter, Vivi, on her blog. In this picture, the ADORABLE child is wearing a strap with plastic bullets.


Here is what some of her "fans" had to say about it:

Neelie: That is a horrible picture of Vivi!!

Karlaro: I agree with you on mostly everything. But somehow I found the picture of Vivi disturbing. I don't even let my children play with anything similar to that. It's just a comment. But oh well!!!!!

David: that picture is gross! I am disturbed...leaving your site for a clearing of my mind as to what you are up to!Keep reading for more Rosie readers revolting. Yeah, I have the alliteration in me!


Rosie finally responded today on PEOPLE.com - here's what they had to say:


O'Donnell also addresses the issue in her
Ask Ro
section. One reader wonders, "Ammunition belts like that aren't sold at toys r us. What would prompt her even [to] want to do that without a little help from you? SAD!"
Replies O'Donnell: "buycostumes.com."
Indeed, a search of the
site
turns up the $6.99 Bandolier Bullet Belt Deluxe, described as "A great accent for your military or cowboy costume!" One caveat: "These are costume accessory bullets intended for decorative purposes only. (These are NOT real.)"
[
source
]