Remember that post I just did about not writing stuff on Britney while she's recovering in rehab? Well that lasted all of about 17 minutes because she checked herself out again. Sources tell ET that Britney Spears left Promises residential treatment center in Malibu, CA early this morning -- less than 24 hours after checking into the facility. Hopefully she left to go somewhere where she can recover without the paparazzi. I imagine this isn't going to be fun for her regardless. Withdrawal isn't exactly a national pastime.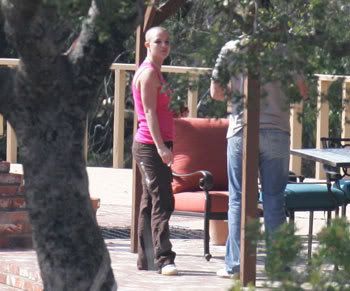 According to InTouch, people are coming out of the woodwork to discuss Britney's drug use since 2003.
"When I was around her, she took Ecstasy," Amanda Alexander, the sister of Britney's first husband, Jason, tells In Touch Weekly. Amanda, 21, says she also witnessed the singer using cocaine in their hometown of Kentwood, Louisiana. Another hometown friend, Kent Smith, who's known Britney for "at least 10 years," says he partied with her three years ago at Club 360 in New Orleans. "She does like to party," Kent tells In Touch. "I've been there when she's done Ecstasy and cocaine." Toward the end of her marriage to Kevin Federline, a major stoner, Britney returned to using hardcore drugs. According to a pal, the couple got into a huge fight on the night of his CD release party last Halloween. "Kevin was mad because he knew she was high on coke," a source tells In Touch. "The divorce really threw her into a deep depression," says a friend. "She felt like a failure and wanted to show everyone how desirable she still is." In addition to the cocaine and ecstasy, Spears was also drinking heavily and taking lots of prescription pills.

Well that certainly might explain her recent wild night at Marquee and Tenjune involving lollipops, no alcohol allowed on the table, making out with some random guy...was she rolling? God, Ecstasy is so 2000.