Remember Donna Hogan, Anna Nicole's less-fortunate-looking half-sister? The one who wrote the scathing book about Anna Nicole only after she couldn't come back from the grave to kick her ass on Jerry Springer. Well, according to PageSix, people are still listening to Donna and this time she's talking about how she wants to become the next Anna Nicole:
"A few years ago, Playboy approached me and I almost agreed to do it. But I was too chicken. My boobs weren't big enough," Hogan says. "But now, if Playboy called, I would probably do it. I just had a birthday and I'm going to treat myself to new boobs. I just want to get my body to where I want it and I'll be ready to step in and do it . . . You'll definitely see a transformation in the next year."

PageSix, like myself, thinks Donna might be overestimating her sex appeal. If she's going to become the next someone - I'd say it's more along the lines of Hulk or Linda Hogan. Are you sure the Hogans aren't all half-siblings?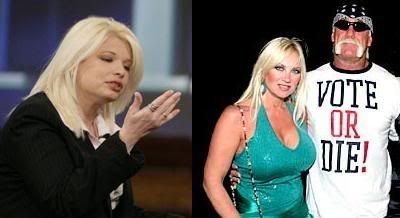 Ok seriously, this is a woman who wrote a whole book based on how her horrible, rich sister never helped her financially while she had to live in a shelter to protect her three kids. Now she runs a gift basket company and can treat herself to boobs for her birthday. Come on, lady. Send your kids to college with the money so they don't have to sell their sister's life story for boobs too.