Amy Winehouse managed to stagger her way onto our blog via pictures of coke boogers up her nose and an edited video of Britney "singing" Amy's rehab song. Beyond her drug and alcohol hijinx, which include showing up drunk to performances, throwing up at performances, not showing up to performances...and beyond her stunning look (seriously, it's like a x26 Taser) she's actually a decent singer.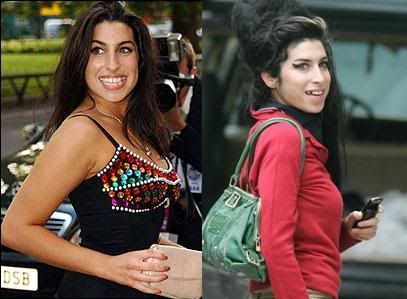 She used to be a cute little Jewish girl before Elvira took her out for drinks, ate her for dinner and then barfed her back up again. Seriously, she's missing a tooth. How does that happen?
Better yet, she's worked her way to some performances in the US. ...and as long as she doesn't sing like this, I find her surprisingly refreshing...