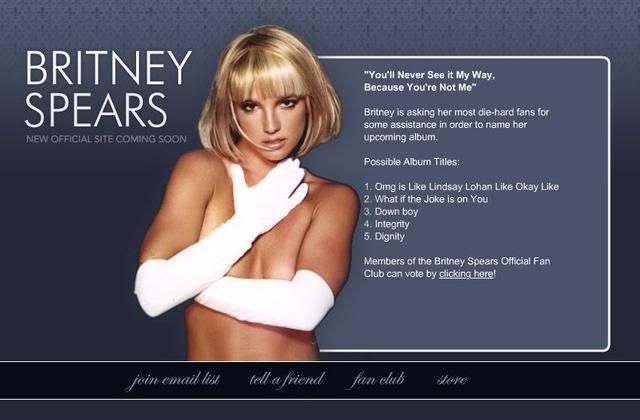 I don't know if Britney Spears' website was hacked, she thinks she has a sense of humor or she's still in the midst of a breakdown. The site starts off with a quote "You'll Never See it My Way, Because You're Not Me." Poetic. Then she wants her fans to help name her new album. The options are:

OMG is like Lindsay Lohan like Ok like

What if the Joke is on you

Down boy

Integrity

Dignity

You have to pay to vote. Meanwhile, her mom is talking to the tabs: "Everything is going to be good," Lynne Spears tells the magazine. "Everything is going to be really good. I can see her life picking up and it's just going to hold great things for her." "Britney Jean Spears is the sweetest and the most sensitive and loving of all my children," says Spears. "She's just figuring things out." So Brian and Jamie Lynn are just petulant, invulnerable, hateful little creatures. I mean, they don't even show their private parts in public.